China's smartphone shipments reached a record high in the final three months of last year.
Xiaomi retained the top spot in 2015 in China.
Manufacturers shipped 117.3 million smartphones to stores in Q4 2015, up eight percent on the figure a year prior, International Data Corporation (IDC) said today.
That was "partly driven by China's annual Singles Day online shopping festival in November and Huawei's strong shipments in the quarter," said IDC in a statement.
Xiaomi retained the top spot for 2015 in China, which it first achieved in 2014. That came despite much stronger growth by compatriot rival Huawei – as well as a stellar year for Apple's iPhone.
Samsung, which was China's top smartphone brand in 2012 and 2013, dropped out of the top five altogether last year. That was despite the Korean giant clinging on to second position back in 2014.
Filling out the new order, Oppo rose to fourth in terms of number of units shipped, while Vivo came fifth.
Peak smartphone
This is China's smartphone market and its gradual plateauing since 2013: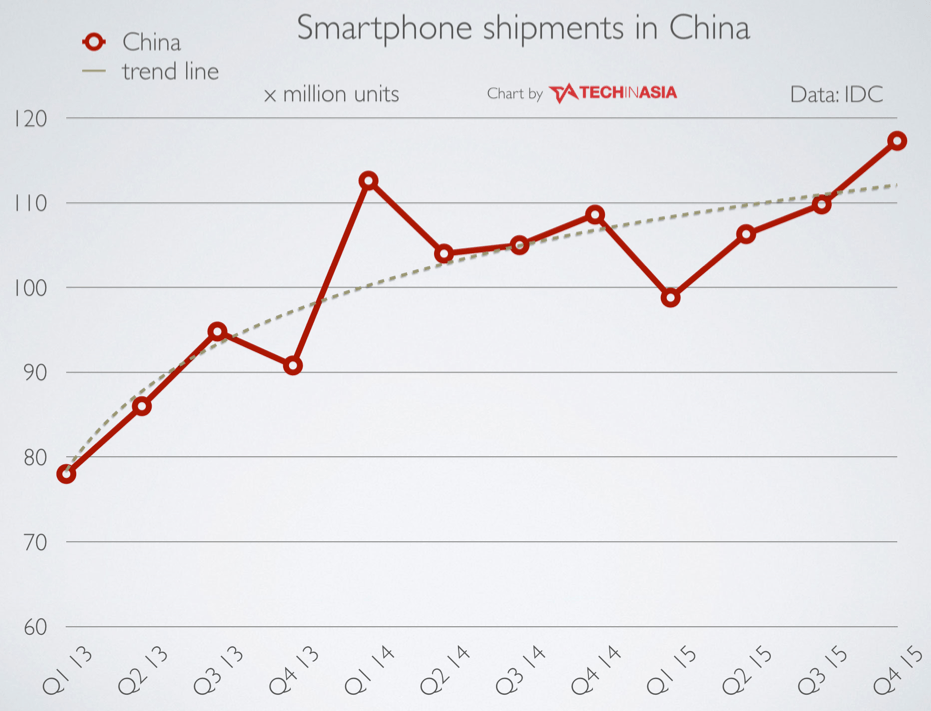 While this is the global scene, with China and India picked out: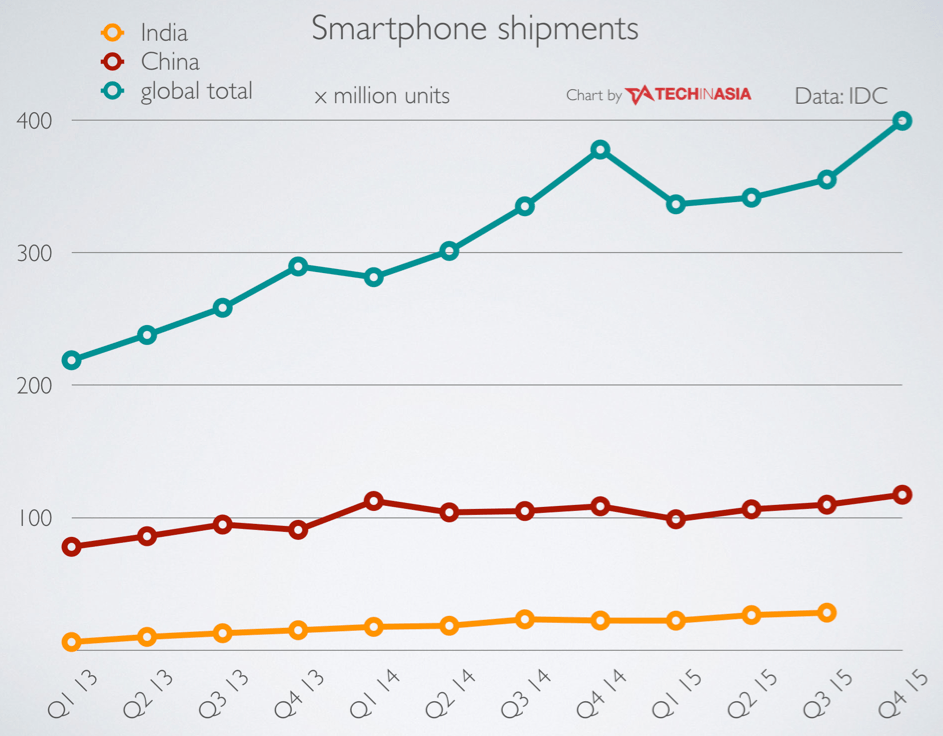 Hey big spender
While the end of 2015 saw a rally in the smartphone market, IDC reaffirmed that China is nonetheless a highly mature market where there are few non-smartphone users that need to be won over. So the country is pretty much at "peak smartphone," meaning the vast majority of sales are upgrades from an old smartphone and the numbers generally won't go much higher each quarter.
"Replacement users are likely to seek for a better device experience, and vendors need to move upstream in order to cater to the needs of this group of users," added the research group. That's good news for Apple, as well as for Huawei's growing range of mid-series and high-end phones. It spells doom for Xiaomi's time at the top.
The average selling price of phones shipped in China in 2015 went up. It now stands at US$257, explained Tay Xiaohan, a senior market analyst at IDC, to Tech in Asia. That's well above the US$125 price tag of Xiaomi's best-selling Redmi range of phones.
See: Xiaomi needs to go upmarket
That differs from Canalys' data showing the average phone price in China rose to US$319 last year, up from US$260 in 2014.
"With the Chinese market now slowing down, it is unlikely that we will see any new players making a big impact on the smartphone market compared to the way Xiaomi did in the previous years," added Xiaohan.